what is neon goat?
FACT: ALL KIDS SMELL. Especially those we can't live without, the ones who are fierce on the soccer pitch, rock it at skateparks, shred it up in the surf. Hey you guys, we love you for being active and healthy—but just between us, your BO is the pits.
Until now, tackling it has meant reaching for weirdly mature body sprays that promise old spice hijinks and make you smell like a 28-year-old busting to get to the club or mid-tier accounting firm. WHICH IS WHY WE CREATED NEON GOAT.
Kids are not adults. Yet. So while they're growing into that role, they need a deodorant and body care routine designed just for them. Neon Goat is not just natural and simple, not just Australian made, but cool enough to be seen in lockers and bags.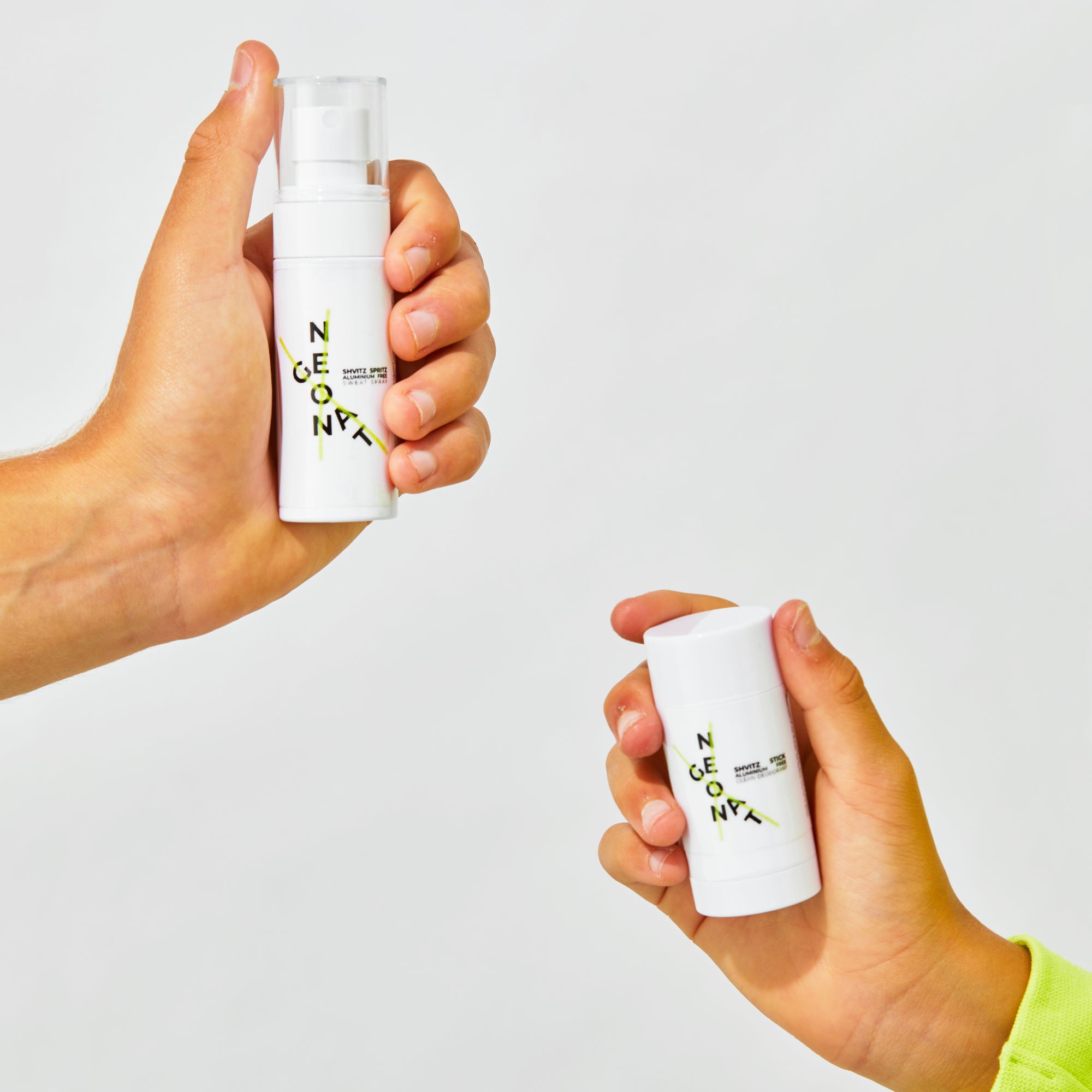 PROBLEM SOLVED.
BO can be embarrassing. The Neon Goat solution is anything but. It's a badge of honour. Yeah, you're changing but you're handling it.
Like all the best humans, it's authentic. Vegan, dermatologically tested, cruelty-free, socially conscious and packed with botanicals. No aluminium. No parabens. No BS. Carpool drivers everywhere, you're welcome.
Let your parents and mates have your back. We'll take care of the underarms.
NEON GOAT. NOT TESTED ON GOATS. CREATED FOR KIDS.
DON'T SWEAT THE SMALL STUFF.
WHAT THE SHVITZ?
Thanks for asking. It's a cool word meaning to perspire. Yeah, to sweat. We all love to have a good shvitz. To smell like one, not so much.
SHVITZ STICK: your secret weapon, clean deodorant with citrus oils and anti-bacterials. Forget sweating the small stuff or smelling like feet.
SHVITZ SPRITZ: vegan light mist sweat spray with Kakadu plum and aloe vera. Spray onto clothes, body, sports kit for the superpower of freshness.
Like a fingerprint, your sweat is unique thanks to your own blend of compounds. So treat that one-off creation with the love it deserves!
Gross or cool? Humans sweat 1263 litres of the good stuff every year. Don't panic, we have you covered.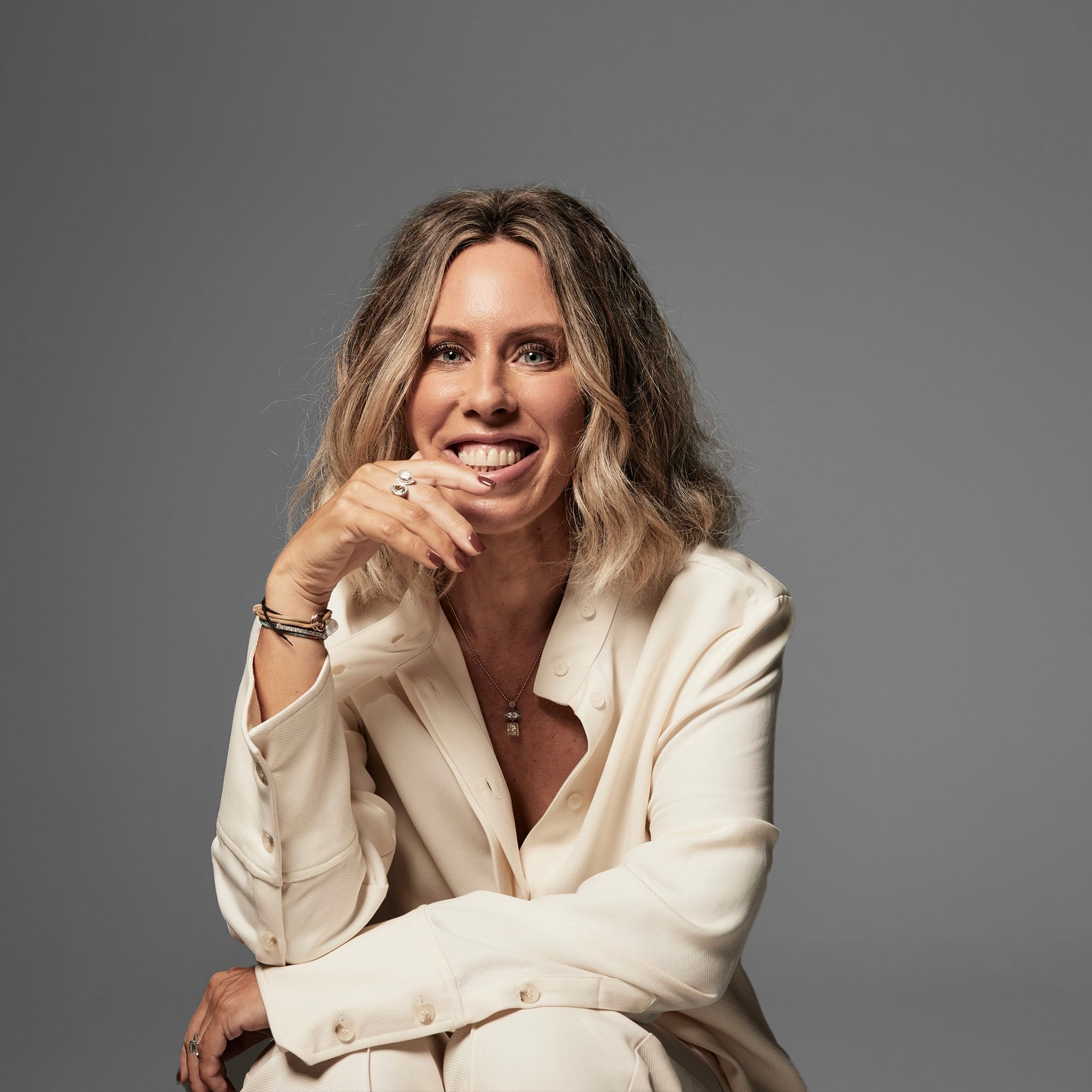 director of family matters.
Before I started my family, work was my passion and my life. And I wanted a big life. Raised in Sydney, I studied both in Sydney and Canada and made my dreams of a career as an advertising account director at a New York-based global ad agency come true. I was ambitious, bold and had a ball. Then traumatic world events saw me head home in September, 2001. Cue plot of romantic bestseller: I met a handsome lawyer, married him three months later and had three kids. My professional dreams changed into more personal ones when I realized my big life meant family. My new job title: Director of Family Matters.
THE LIGHTBULB MOMENT.
For nearly 18 years, "Director of Family Matters " has been on my business card. Being a mother has meant the world to me and has now given me not just a fulfilling, fantastic, sometimes frustrating family but a new chapter in my career. Neon Goat was born from having to schlep stinky kids from school to sport and orchestra to home. When my husband started spraying them with his Tom Ford cologne before letting them in the car, I had a lightbulb moment. 
IT WAS TIME FOR ME TO START SWEATING THE BIG STUFF - launching a vegan, cruelty-free, Australian made deodorant and body spray for active growing boys (of course, all humans can use it too!)
MADE FOR CAR-POOL DRIVERS EVERYWHERE.
why the g.o.a.t?
The name? Shining a bright 'neon' light towards our boys who are often overlooked, misunderstood, can be complex and can be downright frustrating (believe me I've seen it all!). And Goat goes back to how parents feel about their kids - that they're the GREATEST. OF. ALL. TIME. Yep, even when they're pushing our buttons and limits!
Who knew? My career woman ambitions have been rekindled by - I'm just going to own it - shvitz and smelly boys.